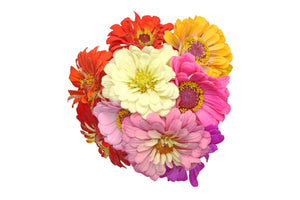 Packet of about 800 zinnia flower seeds for planting. 
Bushy, vigorous plants with single, upright stems. Plants grow quickly, and bloom heavily on stems as tall as 4 ft with huge 5 - 6 inch blooms on long, graceful stems. The flat-petaled semi-double flowers with petals rounded on the end in colors of cherry, orange, pink, purple, scarlet, yellow and white. Attractive to butterflies. Ideal for beds, borders and containers.
Planting instructions: Start zinnia seeds early indoors for transplanting outdoors about 6 to 8 weeks before the last frost date. In warmer climates, sow seeds directly into planting areas and cover lightly with soil. Water thoroughly and thin to 6 to 12 inches apart after seedlings have sprouted.