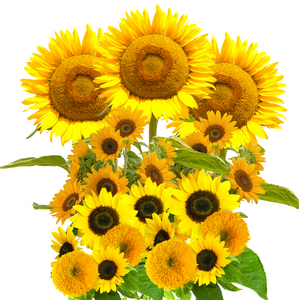 Premium Flower Seeds - Four individual packets of fifty seeds each to plant and grow a beautiful flower garden. You get giant mammoth, tall black oil, dwarf teddy bear and sunspot.

Attract Pollinators - Birds and bees will love you for planting and growing these wildflowers.

Easy To Grow - Sunflowers are some of the easiest to grow flowers. They don't need a lot of water but love the sunshine.

Fun Project - Kids and adults alike will have fun planting, growing and watching as these sunflowers develop into a beautiful display of colors.

Made in U.S.A. - That's right! We hand pack each packet with seeds sourced from reputable suppliers right here in the U.S.A. Thanks for supporting a small family owned and operated business.

Packet with four popular kinds of sunflower seeds. About 50 of each kind for a total of about 200 sunflower seeds to plant and grow in your flower garden.