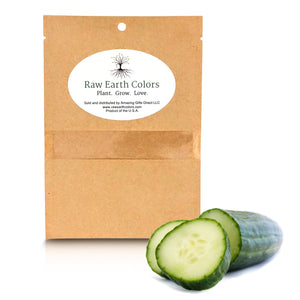 Packet of about 100 vegetable seeds for planting.
Planting instructions:
Plant seeds 1 inch deep and about 2 to 3 feet apart in a row, depending on variety (see seed packet for details). For vines trained on a trellis, space plants 1 foot apart.
Cucumbers can also be planted in mounds (or "hills") that are spaced 1 to 2 feet apart, with 2 to 3 seeds planted in each mound. Once plants reach 4 inches in height, thin them to one plant per mound.

A trellis is a good idea if you want the vine to climb, or if you have limited space. Trellising also protects the fruit from damage from lying on the moist ground.