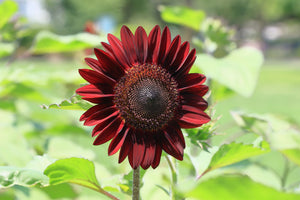 Packet of about 50 sunflower seeds.
 This stunning variety has beautiful deep chocolate-burgundy petals with a dark brown center. Flowers will grow up to 6-7′ tall or can be harvested early for cut flowers. This variety has a longer life once cut because of their minimal pollen content, which makes them ideal for bouquets.
Planting instructions: 
Sow seeds ½ inch deep in groups of 2 or 3 seeds. Space the groups 18-24 inches apart, depending on the variety.
Firm soil lightly, water and keep evenly moist.
Seedlings will emerge in 7-10 days.
Thin to one plant per group when seedlings have two sets of leaves.