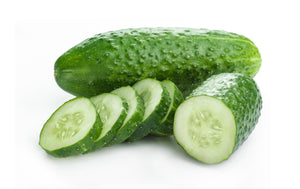 About 50 seeds in a packet.
Planting instructions:  After all danger of frost and when the ground is warm, sow a few seeds 5 inches apart. Choose an area with full sun and well-drained soil. Thin to 1 plant every 15 inches when they are 2 inches tall. Plant at 3 week intervals up to mid summer for fresh cucumbers all season.
To sow cucumber seeds in a container, plant three seeds per pot, pushing them about a half inch deep. Water well and keep the soil consistently moist until the seeds germinate. Depending on the cucumber variety and the size of the container, you will likely need to remove all but one plant once they are growing well. 
If you want to start your cucumber seeds indoors, be sure to sow them at the right time, which is just three to four weeks before you intend to move them to their pots. Planting inside too early results in overgrown plants that may try to flower and fruit while still indoors. These will be difficult to transplant and never live up to their production potential. When you're ready to plant your well-timed cucumber seedlings into their prepared outdoor containers, carefully slip them from their pots and tuck them into the potting mix without disturbing the rootball. Water well.